Sir Charles Lyndon: Are you done with my lady?
Redmond Barry: I beg your pardon, sir?
Sir Charles Lyndon: Come come now Mr. Barry, I'm a man who would rather be known as a cuckold than a fool.
Redmond Barry: Captain Feeny?
Captain Feeny: Captain Feeny at your service.
Redmond Barry: THE Captain Feeny?
Captain Feeny: None other. May I introduce you to my son, Seamus.
Seamus: How do you do?
Redmond Barry: How do you do?
Captain Feeny: To whom have I the honor of speaking?
Redmond Barry: My name's Redmond Barry.
Captain Feeny: How do you do Mr. Barry? And now I'm afraid we must get on to the more regrettable stage of our brief acquaintance. Turn around, and keep your hands high above your head, please.

[Seamus frisks Barry and finds a pouch full of money]

Seamus: There must be 20 guineas in gold here, father!
Captain Feeny: Well, well, well. You seem to be a very well set up young gentleman, sir!
Redmond Barry: Captain Feeny, that's all the money my mother had in the world. Mightn't I be allowed to keep it? I'm just one step ahead of the law myself. I killed and English officer in a duel, and I'm on my way to Dublin until things cool down.
Captain Feeny: Mr. Barry, in my profession we hear many such stories. Yours is one of the most intriguing and touching I've heard in many weeks. Nevertheless, I'm afraid I cannot grant your request. But I'll tell you what I will do. I'll allow you to keep those fine pair of boots which in normal circumstances I would have for myself. The next town is only 5 miles away, and I suggest you now start walking.
Redmond Barry: Mightn't I be allowed to keep my horse?
Captain Feeny: I should like to oblige you, but with people like us, we must be able to travel faster than our clients. Good day, young sir.

[Barry soon is a few paces ahead of the robbers]

Captain Feeny: You can put down your hands now, Mr. Barry!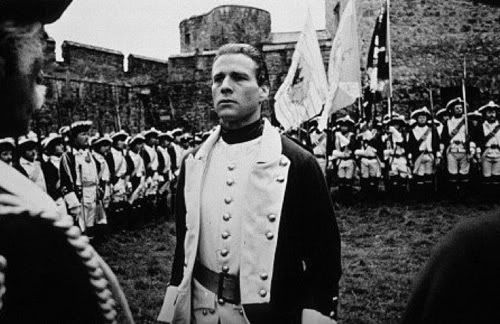 Redmond Barry: Sir, I... I have a confession to make to you. I'm an Irishman. And my name is Redmond Barry. I was abducted into the Prussian army two years ago, and now have been put into your service by my Captain Potzdorf, and his uncle, the Minister of Police... to serve as a watch upon your... actions... and to give information to the same quarter.
Narrator: The Chevalier was as much affected as Barry at thus finding one of his countrymen. For he too was an exile from home, and a friendly voice, a look, brought the old country back to his memory again.
Lord Bullingdon: Don't you think he fits my shoes very well your ladyship.
[kneels to his stepbrother]
Lord Bullingdon: Dear child, what a pity it is that I am not dead, for your sake. The Lyndons would then have a worthy representative and enjoy all the benefits of the illustrious blood of all the Barrys of Barryville. Would they not; Mr. Redmond Barry.
Lady Lyndon: From the way I love this child my lord, you ought to know I would have loved his elder brother had he proved worthy of any mother's affection.
Lord Bullingdon: Madam! I have born as long as mortal could endure the ill-treatment of the insolent Irish upstart whom you've taken into your bed. It is not only the lowness of his birth and the general brutality of his manners which disgusts me, but the shameful nature of his conduct towards your ladyship. His brutal and ungentleman-like behavior, his open infidelity, his shameless robbery and swindling of my property, and yours. And since I cannot personally chastise this lowbred ruffian, and as I cannot bear to witness his treatment of you and loathe his horrible society as if it were the plague; I have decided to leave my home and never return, at least during his detested life or during my own.